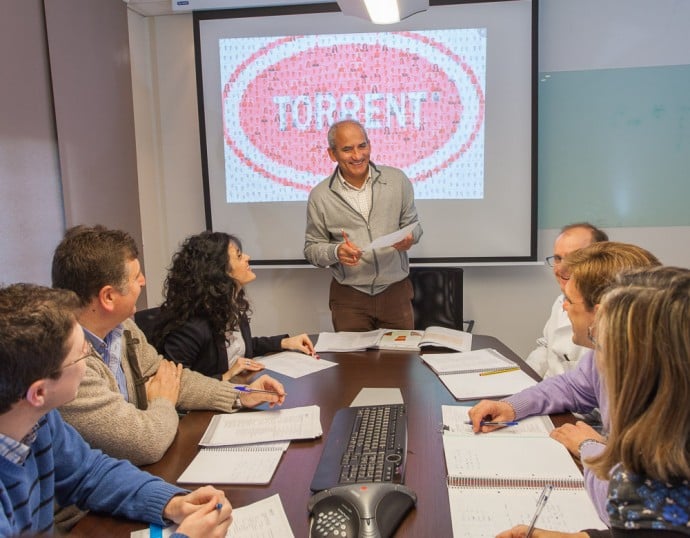 15 Mar

We are committed to training to keep the goal of continuous improvement and pursuit of excellence

For years, the Torrent Group has been committed to continuous improvement of the company personnel in all areas, in order to maintain constant trainning in our manufactured caps and the pursuit of excellence in our industry.

This year, with the idea of giving an fresh impulse to our education program, our better trained personnel will be teaching their know-how to the rest of the staff, to increase internally our capacity utilization.
Continuous improvement of company personnel in all areas.
So far, we had different external experts to provide training. In this new programm we trained nine of our most capable employees as "Trainer of Trainers", to improve their efectiveness. 
Following the initiative of continuous improvement, we are preparing training courses in very specific specialized fields, such as the preventive maintenance of Billion injection machines.
Two calls for proposals have been launched, given by our Group Quality Manager on environmental education and aimed at all plant personnel. These skills are part of the necessary actions to be carried out to maintain our ISO 14001 Environmental Management certification.
In late January, the Export Department officers, attended in the Chamber of Commerce of Jerez, the conference "Foreign trade: the collection of payment for the exports in times of crisis." 
Parallel to this, we have convened various calls for "Food Handler" courses, in production plants in Spain to upgrade staff skills in this area.
Several workshops are expected to take place related to Occupational Risks Prevention matters. General knowledge about specific risk and emergency techniques will be given.
Regarding senior managers, Torrent offers the opportunity to attend P.I.D.E. (Intensive Programme in Business Management) held on an annual basis at the Instituto Internacional San Telmo in Seville.
Finally, we provide all employees the opportunity to attend specialized courses that fall within the framework developed by each applicant.