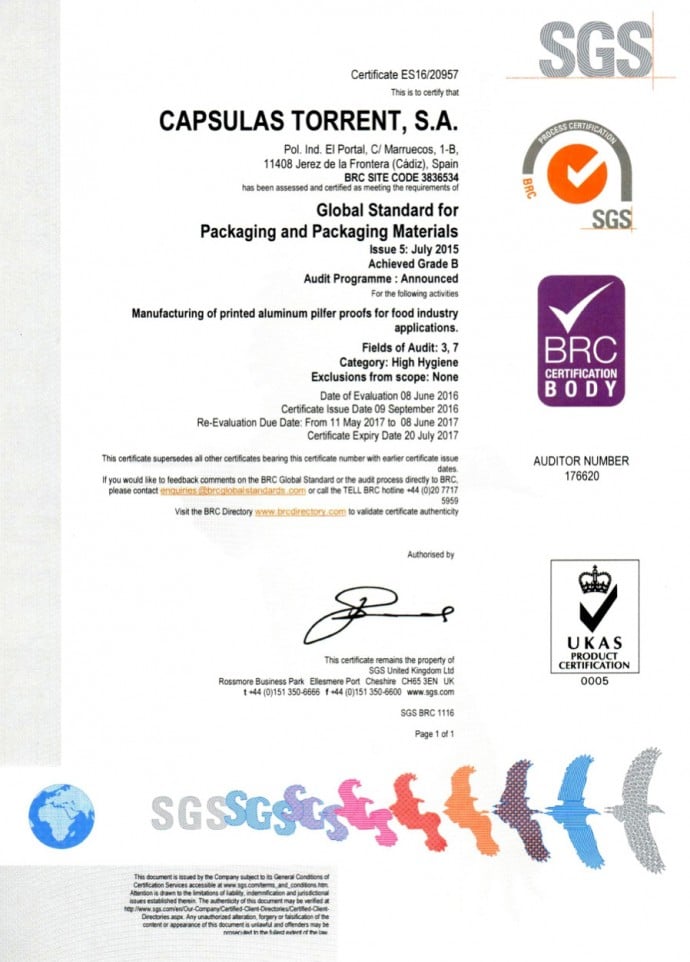 17 Mar

Torrent Group awarded the BRC/IOP certification, world standard for safety and quality

This standard for food packaging material products and consumer goods recognizes the strict hygienic and sanitary controls applied by the Group in its production process.
BRC/IOP certification for the Torrent Group.
The Torrent Group has been awarded the BRC/IOP certification, an international standard that guarantees the quality of packaging materials and safety in the manufacturing process.
This certificate, based on the quality standards set by the British Retail Consortium (BRC) in collaboration with the Institute Of Packaging (IOP), is intended to endorse strict hygienic and sanitary controls to certify the safety of the final consumer.
The BRC/IOP standard is considered by experts and specialist companies as the frame of reference to guarantee the safety, legality and quality of packaging and packaging material used in the food industry.
This certification is increasingly requested by food companies from their packaging and packaging suppliers. In the United Kingdom, most production chains require this certification in order to ensure compliance with technical specifications.
Innovation and development 
With the achievement of the BRC/IOP, the Torrent Group not only certifies the quality and safety of its manufacturing process and its final product, but also confirms its position as a worldwide leader in stopper production.
The achievement of this certification reflects how the Torrent Group continues improve its innovation and development in order to continuously improve its competitiveness and product.
Torrent Group continues to open up business spaces and take its products to new markets with the conviction that international certifications guarantee the quality of the manufacturing protocols of this company with a century of history behind it.